Meet Our Elders
Jim Jensen
My wife, Karlene, and I are natives of the twin cities area (Orfordville & Footville), and were married at the Footville Church of Christ 33 years ago. I was baptized the following year, became a member, and have enjoyed serving the church in various ways ever since. My paid profession was in emergency services and I am a retired fire chief. We have two grown children and were recently blessed with two amazing (and active) grandchildren. Our church family has been such an important part of our lives over the years. It's a joy to serve and give back just a small portion of what we've been blessed with through our involvement here at Footville Church of Christ.
Tom Giles
What I Do Here at Footville Church of Christ: one of 6 Elders, substitute Bible school teacher, Missions team leader & treasurer and Church board secretary
Where I Grew Up: Orfordville, WI
What I do for work: I have been an Electrical Engineer since 1973. That sounds like a long time ago! Over that time span I have worked for four different companies. I am Engineering Manager at Pro-Active Engineering in Sun Prairie. It is owned by Toby Klusmeyer, the son of longtime members Everett and Shirley Klusmeyer.
FCOC member: since 1976 – I think; a long time anyway.
Family: I am married to Debby; since 1971, also a long time! We have four kids; two sons and two daughters, Krista, Tim, Aaron and Nora. They have given us 8 grand children and one great grand child; and they are all Great!
Favorite Pastimes: fixer, photography, fishing, hunting, camping
Saved: I began trusting Jesus in 1974, just after college.
Dale Earleywine
I have had the privilege of growing up in the Footville Church of Christ. I was baptized and became a member about age 11. My wife, Teresa, became a member soon after we married in 1981. We have 2 adult children, Josh and Amber Earleywine and Ian and Sarah Murphy. We are blessed that both of our children and their spouses love the Lord. Although I have seen many changes in our physical facilities, people joining our congregation, and people moving away, Ministers joining our congregation and then moving on, one thing remains constant. Jesus loves each and every one of us and wants all to follow Him and spend eternity with Him. Since you are reading this, we as a congregation pray you have accepted Jesus as your Lord and Savior and we look forward to spending eternity together.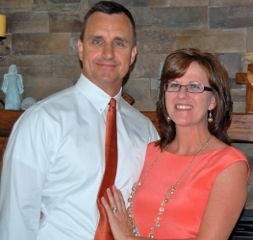 Scott Priske
My wife, Kim, and I have been a part of the family at Footville Church of Christ for more than fifteen years. In that time I have had the privilege of serving as Bible Study Leader, Deacon, and Elder. I enjoy time with my wife– exercising, watching movies, and cheering on the Packers.